Wedge wire screen functions as support grid, sieve bends, baskets, nozzles, lateral assemblies, resin traps and sand screens to be used in industrial applications, including gas, oil, chemicals, petrochemical, drilling, mining, food orwater processing and paper production.
Wedge Wire Screen is widely used throughout the world for water, oil & gas wells, and is the dominant screen type used in the water well industry.

The welded stainless steel wire wrap screen is made up of rods and profile wire. The rod can be round wire, triangular wire or trapezoid wire. The profile wire is triangular wire (V-shaped wire). This type of wedge wire screen has a structure and high open area, as well as accurate slot dimension. The wire is attached to the rods by welding, producing rigid one-piece units having high strength characteristics at minimum weights. Slot opening for screens are manufactured by spacing successive turns of the outer wire to produce the desired slot size. All slots should be clean and free of burrs and cuttings. Each slot opening between adjacent wires is V-shaped, from the special shape of wire used to form the screen surface. The V-shaped openings designed to be non-clogging, narrowest at the outer face and widen inwardly.
Technical Data: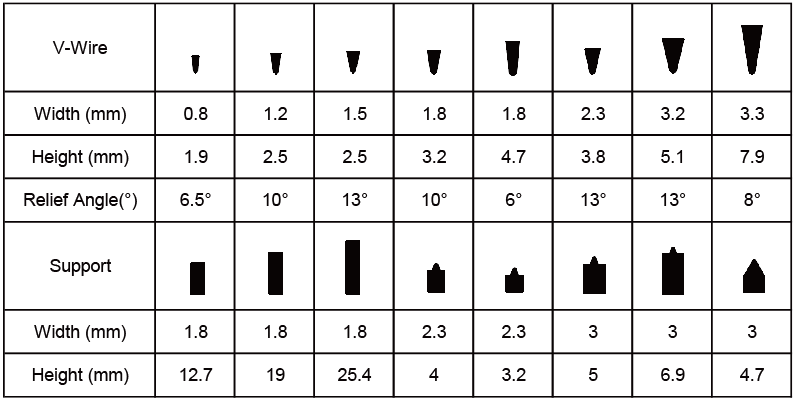 Slot: from 0.1mm, tolerances: ± 0.05mm.
Maximum length: 6000 mm.
Diameter: from 25 mm to 1200 mm.
Material: Low Carbon, Low Carbon Galvanized steel (LCG), Stainless Steel ( 304, 304L, 316, 316L, etc.).
End Connection: Plain beveled ends for butt welding or threaded.

We can produce customized wedge wire screen solutions of applications in the Oil&Gas, Water, Geothermal, Petrochemical, General Filtration Industries and Mining. We offer a wide range of well screens, reactor internals and industrial filters.


Applications:
> Oil & Gas and Water Well
Wedge wire screen is widely used throughout the world for water, oil & gas wells, and is the dominant screen type used in the water well industry. It gives better sand control and reduced pump maintenance and longer tube well life.
> Water Treatment
In water treatment, TIANHUI wedge wire screen is used to collect or distribute the treated liquid, to retain the treatment media, to filter solids.
> Mining and Mineral Processing
Wedge wire screen is widely used in mining and mineral processing industry for both stationery and vibratory decks. Sieve plate can be constructed by rectangular support rods or round support rods. It can be designed to optimize the open area strength, and wear life for each application.
> Petrochemical
Wedge wire screen in the Refining and Petrochemical Industry, it's shapes naturally resist plugging, which helps promote even distribution and uniform flow across the beds.
> Agricultural Industry
TIANHUI Screen specializes in the fabrication of wedge wire screens for the Agricultural industry. Our range of industrial profile screens include Sieve Bend Screens, flat panels and cylinders used in screw presses.
> Processed Food Industry
Wedge wire screen is used in various food processing applications as well as for the de-watering of waste water in meat, poultry and vegetable processing industries.