Quantity – Number of rolls, cut pieces, or square feet.
Size – Length and width of each item. Stock widths are 36", 48", and 60" x any length up to 100'. Wider widths are available by special order and rolls can be slit down to any width.
Mesh – Mesh count is the number of openings per linear inch- 4 mesh, 8 mesh, 20 mesh – or sometimes it is stated as center to center of wires – ½" mesh, ¼" mesh.
Space Cloth – Described by the clear opening or clear space between wires – 1/2" space, 1" open, 2" space.
Wire Size – Diameter of wire in decimals of an inch or sometimes expressed as wire gauge. Wire diameters increase as mesh counts increase. Available diameters from .0010" to .250".
Type of Material – T304 and T316 stainless steel, carbon steel, both galvanized before and hot dip galvanized after, aluminum, brass, bronze, copper, Monel®, titanium, & other high-temperature alloys.
Type of Weave – Plain, twill, plain Dutch, or Dutch twill.
Type of Crimp – Plain weave or double crimp, intermediate crimp, lock crimp.
Type of Construction – Specify welded or woven.
Examples:
8 mesh x .028" 304SS, 1 roll 36" x 100'
4 mesh x .032" 304SS welded; 5 pcs. 60" x 60"
1" space x .120" steel; lock crimp, 20 pcs. 33" x 56"
½" x 19 ga. (.041") galvanized after welded; 5 rolls 4' x 100'
2" open x 1/4" welded steel; 12 pcs. 4' x 10'
100 mesh x .0045" Monel®; 100 circles 6" diameter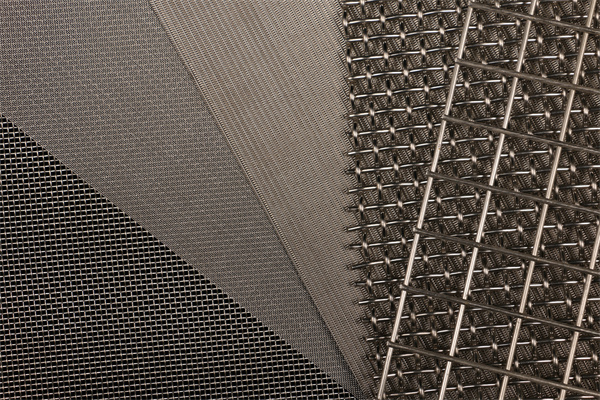 WE SUPPLY WELDED AND WOVEN MESH PRODUCTS
Our products are welded or woven and can be provided in shapes such as circles, donuts, baskets, or blanks. Available in market or mill grade, we offer material in wire diameters from .0008″ to .5″+ with mesh counts up to 635, and options including decorative diamond, or rectangular forms.
Welded wire mesh products undergo heat treatments for permanent bonds at each joint. The welding process causes industrial wire screens to become rigid in nature, which makes these ideal for safety barriers. Our galvanized welded mesh offerings provide further protection from moisture, oxidation, and sudden temperature changes.
Woven wire mesh panels consist of metal strands intertwined together. With a variety of woven options from intercrimp, lockcrimp, and double intermediate crimp, we can help our customers find the look that is best suited to their project.
We supply material in rolls or sheets. Standard rolls can be up to 100′ long and up to 72″ wide, with some wider sizes available. Special treatments include calendering, and passivating that are sure to meet the needs of any application. No job is too large or too small.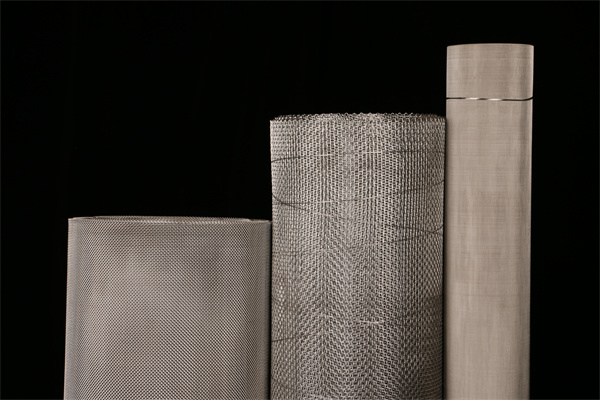 TYPES OF WIRE MESH PRODUCTS AVAILABLE
TIANHUI is your national distributor of custom wire mesh products. From filters to wall partitions, we introduce you to affordable solutions for your facility. Review some of our popular offerings below:
WELDED WIRE MESH
Our welded wire mesh panel offerings are resistance-welded for incredible strength. Intersecting wire patterns create a consistent appearance for indoor and outdoor applications. We makes it possible to integrate welded wire mesh configurations made of stainless steel, galvanized steel, and carbon steel.
STAINLESS STEEL WOVEN WIRE MESH
Wire mesh is woven in a variety of different ways. Common methods include plain weave construction, which is a one over, one under weave, intermediate crimp (commonly known as inter crimp) in which both the warp & shute wires are pre-crimped prior weaving, and lock crimp, in which the wires are crimped at the intersections. Other weave styles such as twilled weave and dutch weave are available depending upon mesh capabilities.
STAINLESS STEEL WIRE CLOTH SCREEN
Consider stainless steel mesh screens for harsh filtration tasks and architectural accents. We see our clients use this technology when handling paints, hot liquids, and fuels since stainless steel materials resist rust. You can also reuse these mesh screens to get the most out of your investments. TIANHUI distributes industrial wire screens that work as sunscreens, railing infill panels, speaker grilles, and more.
STEEL HARDWARE CLOTH
Stainless steel hardware cloth is ideal for outdoor use to protect gardens & vents from rodents, reptiles, or other nuisance wildlife. Whether it's keeping chickens enclosed, or keeping birds from nesting in ventilation, there's a hardware cloth option available to suit your requirements.
MACHINE GUARDS
Protector your people & equipment at your facility using steel and galvanized steel materials. Wire mesh products help you create square-shaped enclosures for machines, systems, and equipment requiring permission to operate.
HEX NETTING WIRE MESH
Place an order for hex netting wire mesh products available in different widths and lengths. TIANHUI selections can be used to support building insulation materials. Industrial teams may also create barriers between windows using these wire mesh screens with hexagonal openings. Their steel strands are twisted together to form the opening dimensions of your choice.
SECURITY FENCING
Update your industrial facility to secure tools, products, and machines. Our security fencing solutions keep intruders out, as the small openings in metal mesh screens make it impossible to climb over barriers and prevent hand tools from fitting through, providing exceptional peace of mind. TIANHUIsecurity fencing products are ideal for positioning in a vertical or horizontal fashion around the perimeter of your plant.