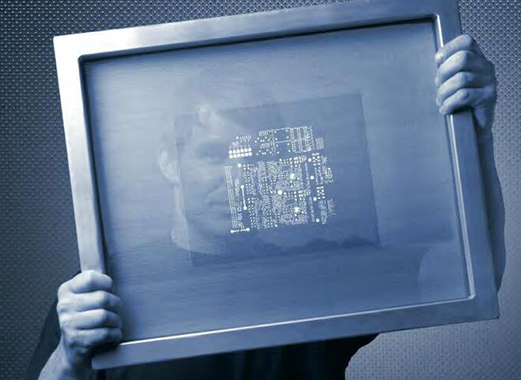 Stainless Steel screen mesh are manufactured on state of the art looms and are particularly noted for their high levels of reproducibility. Stainless steel printing screen is a kind of woven wire cloth for printing industry. This kind of screen mesh has uniform opening, flat surface without joint knots which has the characteristics of acid resistance, alkali resistance, high lasting strength will not be affected under ultra-violet radiation. The fine wire diameter allows good ink performance; also the wire mesh screen has stable mechanical properties, chemical properties and accurate sizes. The shortcoming of stainless steel printing screen is its lack of flexibility and more expensive price. Also, the wire mesh can not restore properly to its original forms after expansion.
Features of Stainless Steel Printing Screen:
Materials: AISI 304, AISI 316, AISI 316L, AISI 321, AISI 904L Etc.
High tension: Much higher tension than common polyester mesh and smooth tension;
Super precision: Uniform wire diameter and aperture with extremely low difference;
Low elongation: Very small elongation of wire mesh at high tension;
High flexibility: The wire mesh will not lose elasticity at extreme tension;
High corrosion resistance: The excellent corrosion resistance of stainless steel wire exceeds polyester fiber;
Non-electrostatic: To avoid affects of non-electrostatic for print and ensure the safety of printing;
Good heat-melting resistance: Special features of stainless wire mesh.
Suitable for heat-melting ink;
Good solvent resistance: To avoid the affects of any solvents to wire mesh and to ensure the safety of print screen.
AISI 316 200 MESH FOR PRINTING

AISI 316L 500 MESH FOR PRINTING
• Specifications of Stainless Steel Printing Screen Mesh:
Stainless Steel Printing screen mesh
Mesh Count
Wire Diameter d
mm
Aperture Width w
mm
Open Screening Area A0
%
Mass
kg/m2
Aperture Quantities 1 cm2
635
0.02
0.02
25
0.127
62500
508
0.025
0.025
25
0.159
40000
450
0.027
0.03
27.7
0.162
31388
400
0.027
0.036
32.7
0.147
24800
363
0.03
0.04
32.7
0.163
20424
325
0.035
0.043
30.4
0.199
16372
314
0.036
0.045
30.9
0.203
15282
265
0.04
0.056
34
0.212
10885
250
0.04
0.063
37.4
0.197
9688
210
0.05
0.071
34.4
0.262
6836
202
0.055
0.071
31.8
0.305
6325
200
0.053
0.074
34
0.281
6200
200
0.05
0.08
37.9
0.244
6200
188
0.055
0.08
35.1
0.285
5478
170
0.055
0.094
39.8
0.258
4480
150
0.071
0.1
34.6
0.366
3488
154
0.065
0.1
36.7
0.325
3676
200
0.03
0.1
61
0.078
6200
150
0.06
0.11
41.9
0.269
3488
• Application of Stainless Steel Screen Printing Mesh:
Stainless Steel Wire Cloth For Screen Printing are widely used in the plate making of electronics, textiles, ceramics, glass and other industries and filtration of aviation, airspace and petrochemical industries
Printing industry

Printing industry

Printing industry