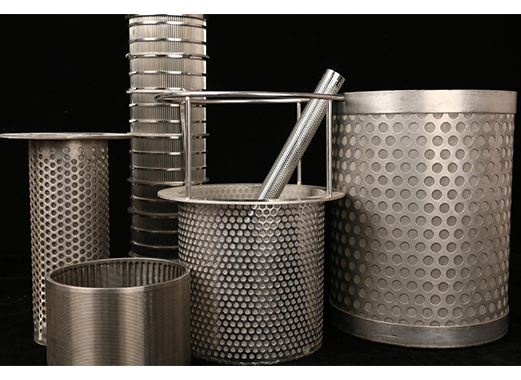 Perforated metal also named as perforated metal sheets, is made through metal punching processes for high filterability with superior weight reduction. Perforated metal can be used to produce perforated filters and perforated tubes. Perforated filters and tubes are made of aluminum, stainless steel, carbon steel and alloy sheet. According to opening diameter, we design the width of plate and punch holes customized by you. Then these plates are rounded in a spiral or straight strip and welded by argon arc welding. The perforated filter tube surface is processed by electrolytic polishing, galvanization, sandblasting, pickling and passivation. With durable materials and various models, perforated filters and tubes can filter liquids, solids and air or sieve different materials to ensure the purity. Weakening noise and granary ventilation are also their important functions. With good acid and alkali resistance, sieving tube is a very practical product for filtering ceramic powders, glass materials, plastic materials, soils, mineral aggregates, drug particles, metal powders, etc.
Perforated filters and tubes features:
Uniform welds and good pressure resistance.
Accurate roundness and straightness.
Smooth and flat surface.
High filter precision.
Also can cut the noise and ventilate.
Resist acid, alkali, low and high temperature, so has a long service life.
Perforated filters and tubes features:
specifications:
Materials: aluminum plate, stainless steel plate, galvanized steel plate, alloy plate, iron plate, carbon steel plate, copper plate.
Thickness: 0.4–15 mm.
Tube length: 10–6000 mm, or tailored to your desired size.
Tube outside diameter: 6–200 mm.
Wall hole pattern: round, rectangular, square, hexagonal, oval, plum blossom, etc.
Hole diameter: 3–10 mm.
Open area: 23%–69%.
Filter precision: 2–2000 μm.
Welding process:
spot welding or full welding.
straight welding or spiral welding.
argon arc welding.
Surface: electrolytic polishing, galvanization, sandblasting, pickling and passivation.
Stainless steel perforated tube with round hole

Perforated Filter Smooth Surface & Firm Structure

Perforated filters and tubes
Application of Perforated filters and tubes
Filter liquids and air, such as water, oil, etc.
Sieve different materials and remove impurities, such as in food, pharmaceutical, chemical and environmental protection industry.
As various frameworks of filter elements.
Weaken the noise.
Used for granary ventilation.